2021 Soil Management Summit
December 14, 2021

-

December 15, 2021

$100 – $185

Cultivating soil productivity and health
The Soil Management Summit emphasizes proven farmer experience and applied science. Straight from the fields, learn how heavier, colder soils aren't necessarily the challenge they're made out to be. Hear from long-time no-till, reduced tillage, and cover crop farmers as they share their experiences, so you can be spared the same hard-learned lessons.
The Summit features presentations and Q&A with researchers, farmers and agricultural advisors,  information from sponsors, and conversations with farmers experienced in different soil health practices.
Attendees who attend the entire conference will be offered 9.5 CCA continuing education units (CEUs).
Cost
Registration for this event is $155 for the in-person event for both days and $100 for the 2-day limited virtual webinar.
Scholarships are available to help with the registration cost. For more information, contact Shane at sbugeja@umn.edu.
Agenda
Tuesday, December 14
8:30 a.m. to 6:00 p.m.
Opening Keynote address
The keynote address will be given by Dr. Rattan Lal, a Distinguished University Professor at Ohio State's College of Food, Agriculture and Environmental Sciences. As one of the world's top soil scientists, Dr. Lal has focused on sequestering carbon in agriculture and restoring soil health, with the goal of mitigating global warming.  The agricultural practices Lal has advocated, such as no-tillage, cover crops and agroforestry, are now at the heart of efforts to improve agricultural systems in the tropics and globally. He has received numerous international awards for his work over the years, including the World Food Prize, the Canada-based Arrell Global Food Innovation Award and the Norman Borlaug Award.
For a detailed agenda, click here.
Speakers
Francisco Arriaga, University of Wisconsin – Madison
Dr. Francisco Arriaga is an Associate Professor and Extension State Specialist with the Department of Soil Science at the University of Wisconsin-Madison and UW-Extension. His research and outreach programs focus on management practices for soil improvement of agricultural systems, including soil health and water quality. Dr. Arriaga is the recipient of the Rothermel-Bascom Professorship in Soil Science and is a fellow of the Soil and Water Conservation Society.
---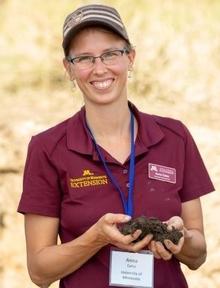 Dr. Anna Cates, University of Minnesota
Dr. Cates is the State Soil Health Specialist for the University of Minnesota Extension. She studied soil science, agroecology, and agronomy at UW-Madison, receiving an MSc and PhD. Dr. Cates' research focuses on soil organic matter storage and cycling and developing soil health systems for upper Midwest cropping systems. Dr. Cates leads the MN Office for Soil Health, a collaboration between the MN Board of Water and Soil Resources and the MN Water Resources Center.
---
Jodi DeJong-Hughes, University of Minnesota Extension
Jodi DeJong-Hughes has been a Regional Educator with the University of Minnesota Extension for over 24 years. Her area of specialization includes tillage systems, soil compaction, and improving soil health. Jodi's work focuses on reducing soil erosion and building soil health to improve the grower's bottom line and to reduce the movement of soil and nutrients to our natural waterways.  She enjoys working alongside growers, ag industry, and government agencies to bring high quality, educational programs and research to the people of Minnesota.
---
Greg Entinger, Farmer
Greg Entinger farms 1,000 acres of corn and soybeans near New Prague, Minnesota. In 2015, Greg strip-tilled all of his acres and admitted that he "bet the farm" on the practice, but the calculated gamble paid off with measurable economic returns including equipment cost savings and fertilizer reduction, and he became an accidental conservationist. Greg is currently using strip-tillage on soybean stubble to plant corn and is using no-till techniques to plant soybeans into corn stubble.
---
Marla Riekman, Manitoba Agriculture
Marla Riekman is the Soil Management Specialist with Manitoba Agriculture.  She earned a Bachelor of Science in Agroecology and a Master's Degree in Soil Science, both from the University of Manitoba.  Before joining Manitoba Agriculture in 2007, Marla worked as the Farm Manager for the Manitoba Zero Tillage Research Association and also as a Soil Conservationist with the Prairie Farm Rehabilitation Administration.  Marla's main focus is to provide extension on dealing with problem soils and maintaining long-term productivity by managing soil health.  Marla's passion for soil has even crept into her personal life – she is known to create jewelry with soil in her spare time.
---
Megan Roberts, University of Minnesota Extension
Megan Roberts joined Extension in 2017. Previously, she was an agribusiness faculty member at South Central College. Her interdisciplinary work focuses on farm transition, farmer resiliency, and ag policy. She holds a BS and MS from the University of Minnesota and a doctorate from a joint program of Texas A&M and Texas Tech Universities. She is also currently completing her financial planning (CFP) certificate. Megan grew up on a dairy farm in central Minnesota and currently lives on a hog and crop farm in southern Minnesota with her husband and son.
---
Dean Sponheim, Farmer
Dean is a fourth generation Mitchell County farmer, located southwest of Osage, Iowa. He owns and operates the family's Century Farm with his wife, Cindy, and his son, Josh. He is known as the "Accidental Conservationist". Dean started many different practices for reasons other than conservation. He began strip tilling in 1999 and in 2004 started a custom strip till business. He began strip cropping in 2011. Dean started aerial applying cover crops in the fall of 2012 and in 2014 started a cover crop seed business, Sponheim Sales and Services. In 2019, Dean began no-tilling all of his acres of corn and soybeans. He is a member of the Rock Creek Watershed Advisory Board. In 2014 the board, with the assistance from Iowa Soybean Association, developed the first watershed project plan in the state of Iowa based on the Iowa Nutrient Reduction Strategy Goals. Since 2014, Dean has shared his story to many groups. He has spoken at the Iowa Soil and Water Conservation District Commissioners' Annual Meeting, National Strip Till Conference, Iowa Farm Bureau State Convention, Iowa Corn Growers Annual Meeting, Iowa Soybean Association Research Conference, Practical Farmers Annual Conference, Soil Health Conference, and many other events. Dean has hosted and presented at many field days across Iowa and Minnesota. His real passion is helping producers work through the psychological challenges when implementing "Change".
---
Jeff Vetsch, University of Minnesota Southern Research and Outreach Center
Jeff Vetsch manages soil science research at the University of Minnesota, Southern Research and Outreach Center in Waseca. He conducts applied research in the areas of nutrient management, water quality and cropping systems, primarily in corn and soybean. His research emphasis is on nitrogen management in corn. Jeff earned his BS and MS degrees from the University of Minnesota and he is a Certified Professional Soil Scientist. He received the researcher of the year award from the Fluid Fertilizer Foundation in 2013. He has authored 21 refereed publications and eight extension publications. During the last 10 years, he has given 275 professional and extension presentations to more than 14,000 attendees.
---
Jochum Wiersma, University of Minnesota
As Minnesota's Small Grains Specialist located at the Northwest Experiment Station, Jochum's extension mission is to develop educational programs, to organize grower and industry meetings, and to handle inquiries and requests from the public. His research mission is to develop programs that meet the small grain production and management needs of Minnesota's producers so small grains production is profitable and sustainable.
---
Melissa Wilson, University of Minnesota
Melissa Wilson is an Assistant Professor and Extension Specialist of Manure Management at the University of Minnesota. Her research and Extension programs focus on best management practices for land application of manure for crop production. She has a M.S. and Ph.D. in Water Resources Science from U of MN with a focus on nutrient management and agricultural water quality.
---
Lodging
A block of rooms has been reserved  at the Hilton Garden Inn in Mankato for a special rate of $119 per night. To reserve a room, call 507-344-1111 and mention the "Soil Management Summit." The special rate is offered until November 22, 2021.
Thanks to our sponsors
Thank you to our generous sponsors for supporting this event!
Platinum level
Agassiz Seed and Supply
Minnesota Corn Growers Association
Minnesota Soybean Research and Promotion Council
Minnesota Sustainable Agricultural Research and Education (SARE)
Gold level
Agoro Carbon Alliance
TruTerra
Silver level
ETS/Soil Warrior
Exhibitor
AgFocus
Aguru
Farm Power
Hiniker Company
Kuhn Krause Inc.
Martin Till
Minnesota Soil Health Coalition
Orthman Manufacturing
Saddle Butte Ag Inc.
Salford Group
State of Minnesota
Sustainable Farming Association
University of Minnesota
Yetter Farm Equipment
---