Film on the Farm – Rice County SWCD/NRCS
August 27, 2020 @ 8:00 pm

-

9:30 pm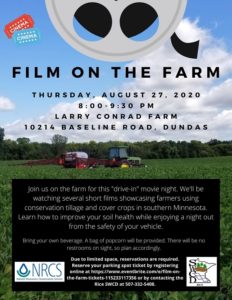 The Rice Soil and Water Conservation District (SWCD) and the Natural Resources Conservation Service (NRCS) are partnering together to host a "drive-in" movie night for area farmers to view several short films showcasing the use of conservation tillage and cover crops by producers in southern Minnesota. The event, Film on the Farm, will take place on Thursday, August 27th from 8:00 – 9:30 pm on the Larry Conrad Farm, 10214 Baseline Road, Dundas.
Films to be shown during Film on the Farm include Hugh Hammond Bennett:  The Story of America's Private Land Conservation Movement by NRCS, No-Till Farming with Corn and Cover Crops in Southeastern Minnesota by Minnesota NRCS, High Clearance Cover Crop Seeder with Andy Linder by Minnesota NRCS, Growing No-Till Corn Silage and Cover Crops for Dairy in Southeastern Minnesota by Minnesota NRCS and Studying My Soil: A Continuous Education through Trial and Error (featuring Dave Legvold, Rice County farmer) by Strip-Till Farmer Magazine.
The films will be projected onto a large machine shed door and the audio for the movies will be broadcast to each vehicle using an FM transmitter.
The Film on the Farm event is made possible by grant funding from the Minnesota Office For Soil Health, Minnesota Board of Soil and Water Resources, Minnesota NRCS, and the Tri-Lakes Sportsman Club.
Attendees are asked to bring their own beverage. A bag of popcorn will be provided. There will be no restrooms on sight, so attendees should plan accordingly.
Due to limited space, reservations are required. Reserve a parking spot ticket by registering online at https://www.eventbrite.com/e/film-on-the-farm-tickets-115233117356 or by contacting the Rice SWCD at 507-332-5408.